COLDSiS WAS ONE OF THE TECH COMPANIES VISITED BY AWS.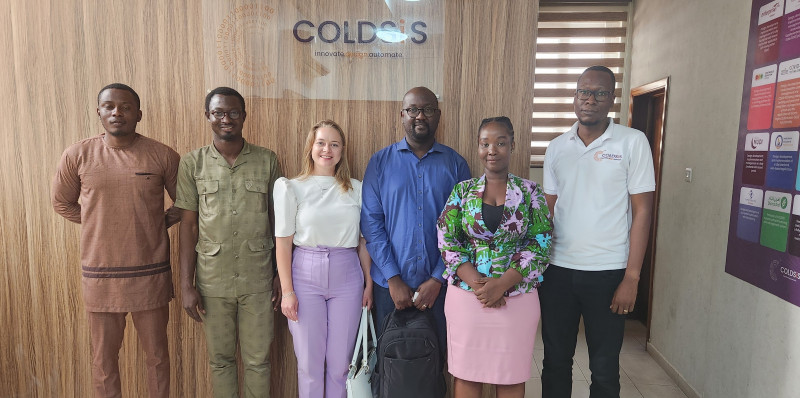 Sunday, April 16, 2023 at 4:37 AM
COLDSiS received a delegation from Amazon Web Services, a subsidiary of Amazon, providing on-demand cloud computing platforms. A delegation of three led by Mr. Cheikh Samba MAHAMAN( Solution Architect) met Nathaniel Ashiagbor and Yakubu Lantam Abdul-Jabar to know more about COLDSiS and how AWS can support the company to scale up it's activities. Mr. MAHAMAN was impressed after we briefed him and his team about how COLDSiS was started with three Founders and currently with a staff strength of over 15.
We discussed COLDSiS ongoing in-house projects like VaraPay,Rentmonitor,Clokyn, CB messaging,Pheebs hosting, Consumer Review and finally ended with Ayaana school management system and our technical operations like Our cloud service Architectures,the languages we use in building our software applications and the challenges we are currently facing as a company.
The team informed us about the opportunities AWS is bringing to Small companies like COLDSiS.With Kenya now having AWS Local Zone, we wish that Ghana will also have similar infrastructure that will go a long way to help innovative tech companies like COLDSiS to deliver a new generation of leading-edge,low-latency applications,hybrid deployments and offer end users a single-digit millisecond performance designed to suit applications such as remote real-time gaming,media and entertainment content creation,live video streaming, Engineering simulations,Augmented and Virtual Reality and ML inference at the edge.
The AWS team assured us of their support as their focus is also to help Technology-driven companies like COLDSiS. We also assured them building innovation solutions that will provide opportunities for small and medium businesses to grow through digitalisation.